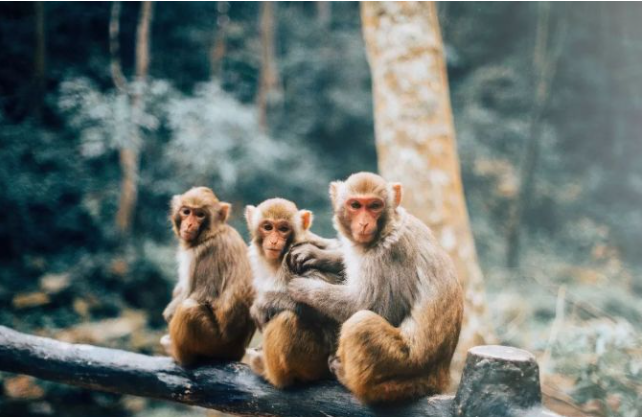 When considering immersive Chinese language learning in China, I would not recommend Zhangjiajie as your destination.
What kind of city is Zhangjiajie?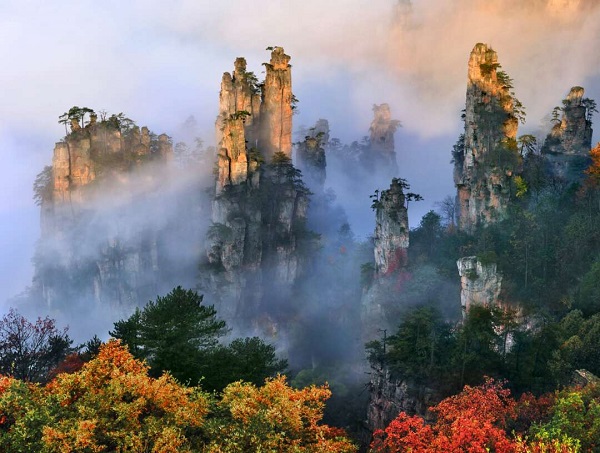 Zhangjiajie City, formerly known as Dayong, is a prefecture-level city under the jurisdiction of Hunan Province, China, located in the north-western part of Hunan Province.
Zhangjiajie City is located in the hinterland of the Wuling Mountains; the terrain here is dominated by mountains. Limestone is widely distributed in this region, with many landforms such as karst, peak forest, and karst caves. The city has a total area of 9,534 square kilometers and a population of 1.524 million. The proportion of the Tujia group population exceeds 60%.
Zhangjiajie is a well-known tourist city, known for "countless pretty sceneries of mountains and rivers everywhere." Zhangjiajie's Wulingyuan has the sandstone peak forest landscape, which is very rare to see, and was listed as a World Natural Heritage by UNESCO in December 1992. The famous Hollywood movie AVATAR was partly shot here.
Based on the above information, I'm sure you already noticed that Zhangjiajie is more like a touring destination rich in natural attractions and amazing landscape, rather than a good place with proper resources and fundamental infrastructures to support long-term living and learning.
What about the climate and other information about Zhangjiajie?
Climate in Zhangjiajie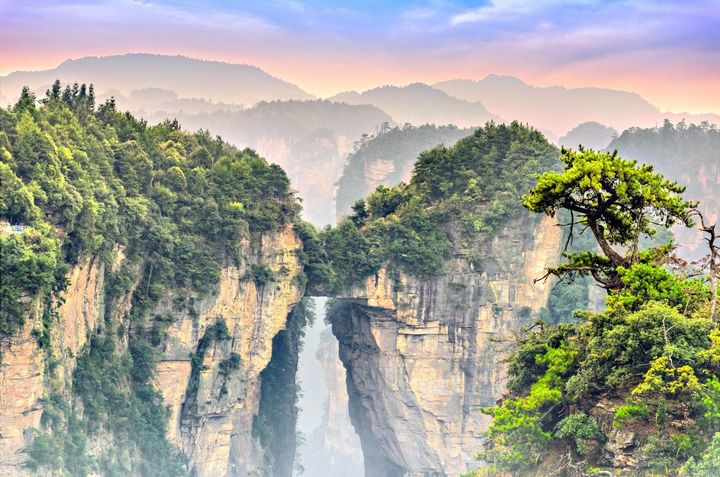 Located in the mid-latitudes of the northern hemisphere, Zhangjiajie has a monsoon humid climate that is the prototype of the mid-subtropical mountains.
Zhangjiajie has sufficient light and heat, abundant rainfall, a long frost-free period, and distinctive weather in four seasons. The annual average sunshine duration is 1440 hours. The annual average precipitation is about 1,400 mm. The highest temperature in summer is 37.2 degrees Celsius, the lowest temperature in winter is minus 3 degrees Celsius, and the annual average temperature is about 16 degrees Celsius.
In a year, the coldest month in Zhangjiajie is January, with an average monthly temperature between 5 and 7 degrees Celsius; the hottest month is from July to August, with an average monthly temperature between 25 and 28 degrees Celsius.
Affected by topography and landforms, the climate in Zhangjiajie is complex and changeable. Natural disasters such as droughts and floods, strong winds, and hail are more frequent.
Learning Mandarin should be an experience full of pleasant and relaxing. More options are much more ideal than Zhangjiajie when related to learning the Chinese language. Speaking to the city with the best climate in China, it must be the famous Kunming city in Yunnan. It is a pretty city with the mildest climate in China that you will never find it's too hot or too cold to stay. "Eternal Spring City" is the reputable title Kunming won by people's words. Kunming is also considered the top 1 touring destination among Chinese people because it has an amazing natural landscape and a colorful ethnic minority group culture to explore.
Dining in Zhangjiajie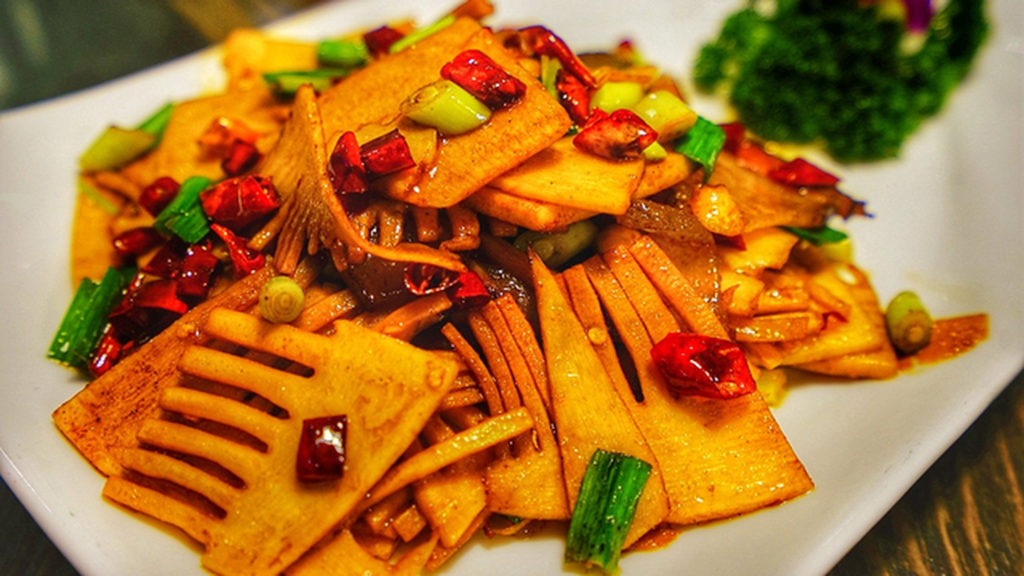 The food of Zhangjiajie is featured as Hunnan cuisine (湘菜 xiāng cài), one of the Eight Major Chinese Cuisine. Hunan cuisine has been developed since the Tang Dynasty and has a unique taste. Most of Hunnan cuisine is in a particular spicy flavor and puts a lot of stress on the quality of the raw materials. 
When ordering food in a Chinese restaurant, especially a Hunan cuisine restaurant, you can order Stinky Tofu臭豆腐 chòu dòu fǔ, Steamed Fish Head with Chopped Pepper剁椒鱼头duò jiāo yú tóu and Spicy Crawfish 麻辣小龙虾má là xiǎo lóng xiā.
In Zhangjiajie city, the local food has maintained the characteristics of Hunan cuisine and combined culinary skills from the Tujia Group. Tujia group is good at making mature meat such as matured port, lamb, beef, sausages, and blood puddings; besides, the pickled vegetable, marinated pork meat, and marinated fish meat are also special local dishes to try.
Because Zhangjiajie city is a famous touring attraction in the area, having a meal in a local restaurant is not low or even expensive sometimes. Dining in the suburbs of Zhangjiajie is not that expensive. At night, food stalls are everywhere on the street, and Tujia hot pot is worth trying as well.
Transportation ways in Zhangjiajie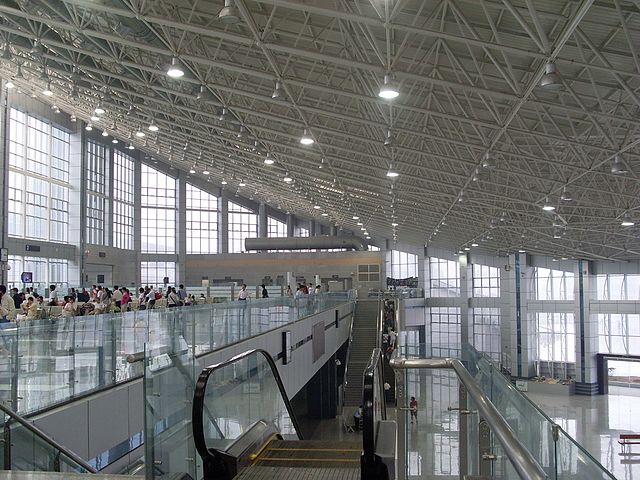 There is a tiny airport, Hehua Airport in Zhangjiajie, considering it's still a famous touring destination, but there are not too direct flights from other major Chinese cities. There is also a train station that is connected well to the national railway system. Basically, there is no big problem for you to travel to Zhangjiajie. But it wouldn't be a too comfortable nor pleasant journey. One tip for tourists who take trains is not to get on those unlicensed private taxies outside the station. There is still about one hour driving from the station to the touring zone. These unlicensed private taxi drivers may threaten to raise the price halfway to Zhangjiajie park.
Why is Kunming a better option?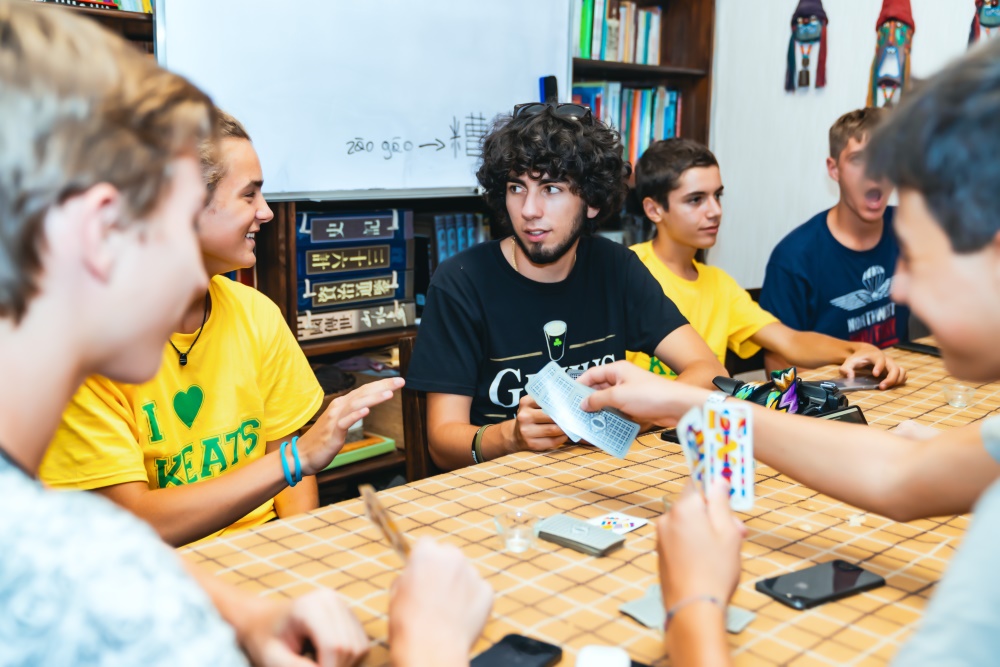 Aside from the advantage of its mild climate, there are more reasons that you should choose Kunming to learn Chinese in China.
-Kunming is a better city for you to experience authentic Chinese culture
Unlike other top-tier Chinese cities or other rural under-developed towns, Kunming is a modern city that embraces both traditional and modern elements. You can enjoy a convenient lifestyle and immerse yourself in the authentic Chinese lifestyle at a slow pace in Kunming at the same time. There are pubs and fancy restaurants for you to enjoy entertainment and many featured parks you can see to have some peaceful moments. Life could be colorful here in Kunming.
-Dialect accent has less impact on your language learning here
Kunming dialect belongs to the northern dialect family, which means that the local dialect is similar to Chinese Mandarin. It won't influence your language learning as much as other southern dialects do. Your study experience in Kunming would be smoother compared with other southern cities like Chengdu, Xiamen, Hangzhou, Suzhou, and Nanjing.
-Kunming has the best language learning resources
When it comes to learning a foreign language, a private school is a better choice. Why should you always choose a private school rather than a public university? The biggest and the best private language school, Keats School, is headquartered in Kunming. It's the most professional and experienced Chinese language school dedicated to bringing a top-quality learning experience for Mandarin learners. Keats School keeps growing as time being, and a dynamic, lively Mandarin learning community has been set up here. 
-You can explore more by touring in Yunnan and south-eastern Asian
Kunming could be an ideal base for you to visit the rest of the Yunnan province and also the base to explore the south-eastern Asian countries. It's convenient to reach every corner from the fifth largest international airport in Kunming.
Now, do you still want to study Chinese Mandarin in Zhangjiajie? I'm sure you already have a different answer.