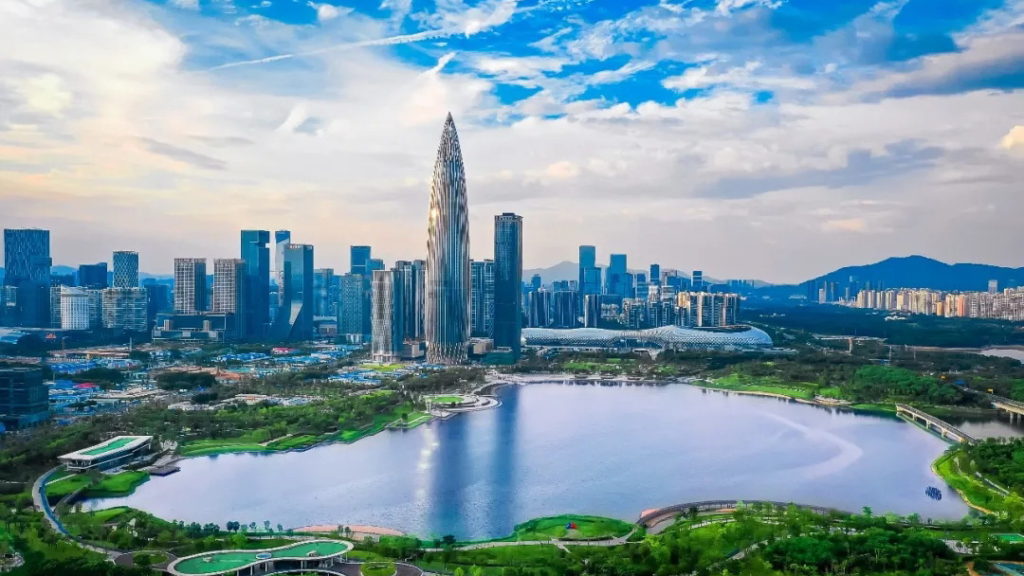 Is Shenzhen a good learning destination for you to learn Chinese Mandarin faster? Let's have a look at how is it to learn the Chinese language in Shenzhen.
Before considering other details, let's have a look at the background information of Shenzhen City. Shenzhen is a young city located in the south of China. It's one of the tier top cities in China and it's also often quoted as a melting pot for it is the biggest immigrant city in China. People from different corners of this country come to this city to seek their fortune. In this city, everyone uses Putonghua, Mandarin Chinese for daily communication and work. That is quite unusual in this Canton region where most locals choose to speak Cantonese and Hakka.
Shenzhen borders Hong Kong which makes this area became China's first—and one of the most successful—Special Economic Zones. By enormous and rapid Chinese and foreign investment, Shenzhen is now considered one of the fastest-growing cities in the world. Being one of the major financial centres in southern China, Shenzhen is also the home to the Shenzhen Stock Exchange, the headquarters of numerous high-tech companies, and one of the busiest container ports in China.
From the above information, we can see that Shenzhen is a lively modern metropolitan full of working opportunities. However, is it an excellent place for learning the Chinese language too? Following are questions you should ask when choosing the city to stay for Mandarin learning.  
-Learning resources
When you try to Google out the best Chinese language program in universities located in Shenzhen, you will find that there is not much content to see. Though this city is full of various potential for developing career and doing business, it is not ideal in the aspect of academic resources. It's not just about the public one but also the private one which including the private language school.
Besides, if you are yearning to learn the Chinese language well and efficiently, the private language school is always a better option rather than the public university.
Check this post to know WHY to PICK A LANGUAGE SCHOOL INSTEAD OF A UNIVERSITY.  
If you want to find the best and biggest private language school in China to learn Chinese Mandarin, then you may turn your eye to the other destination, Kunming, the capital city of Yunnan province. You will find the most ideal Chinese language school, Keats School in this city.
Keats School founded in 2004 and has accumulated 16 years of rich teaching experience. The teaching team of Keats School owns practical teaching skill and unique methodology that can help students make rapid progress in a short period.
To learn the Chinese language in China, you have to find a good language school to follow with. Only the qualified language school can lead you to experience the beauty and wisdom of this ancient oriental language.
-Cultural experiencing
Experiencing and understanding the culture contained by a language is the key to master the language. This rule also applies to learning Chinese Mandarin.
The Chinese culture with a profound history of 5,000 years is splendid and magnificent for a language learner. To explore and experience the Chinese culture, you have to find a place that still preserves the essence of the culture. 
I have to say, as the biggest immigrant city and the melting pot of culture, Shenzhen city has no advantage in the aspect of the cultural offering.
Shenzhen has experienced spectacular growth over the past years and while this is really good in terms of business and job opportunities, it comes out that Shenzhen practically doesn't have recognized educational establishments and lacks experience. So the cultural offering in Shenzhen also suffers from this.
Shenzhen is a city that oriented around business and it's hard to immerse yourself in Chinese society and culture while living in the city. You may taste a little bit of every kind of culture in Shenzhen but you can never really know these cultures nor see the core parts of these cultures. It's because all these cultural experiences you got here are superficial.
Besides that, a large number of foreigners and the internationalization of the city make it too easy to live in the city without needing to use your Chinese.
The thought of living and immersing yourself in the authentic environment for learning the Chinese language would not work out in Shenzhen at all.
Since that, if your main goal is to learn Chinese quickly, you should move your eyesight to another area that not only conserves the traditional Chinese culture but also present diversity of minority groups' culture, that is the city of Kunming which located in south-western China.   
Check out more reasons about why you should learn Chinese in Kunming.
-High cost of living
Budget is no doubt a prominent part to think about before you travel to China for Mandarin learning. Honestly, comparing with other second- or third-tier cities in China, Shenzhen has a high cost of living. Even though in certain aspects such as housing, the prices are less than in Beijing or Shanghai, other services have a similar or even higher cost. If you have a tight budget for living in China, you might want to consider cheaper options.
I have explained this content in another post on the Keats Blog, you can check out HOW MUCH DOES IT COST TO LEARN CHINESE IN CHINA. 
There currently exist a large number of smaller cities with a significantly lower cost of living. Kunming is a budget-friendly place. Even better, Keats School provides the best tuition fee solution for all international students. Your accommodation and three meals a day are included in your tuition fee if you enrol in the One-on-one Chinese program offered by Keats School. During their stay at Keats School, there are also free cultural experiencing courses, free excursion on weekend, free language exchange event and other free facilities for Keats students to enjoy.  
-Air pollution & climate
It's not rare to see air pollution problem in China, so is Shenzhen. Shenzhen tends to not have very high pollution levels but it's still not ideal compared with other cities with smaller scales. For this reason and those mentioned above, Shenzhen seems not like a livable city for expats to live. Regular monsoon rains and humidity in summer can make you feel really uncomfortable.
The dominant climate in Shenzhen is the subtropical climate. It brings this city very hot summers and less coldness in winter.
But there is one city that is famous for the blue sky and mild climate. That's the so-called "internal spring city", Kunming. As its name indicated, this city owns the mildest climate that can let you enjoy the warm weather of spring throughout the whole year. This is also one of the biggest advantages that Kunming attracts so many visitors each year.
After analyzing these questions, I think you have already been clear about the answer. Shenzhen could be a good place for working and business but when it's come to learning Chinese language, Kunming is a better choice for you.