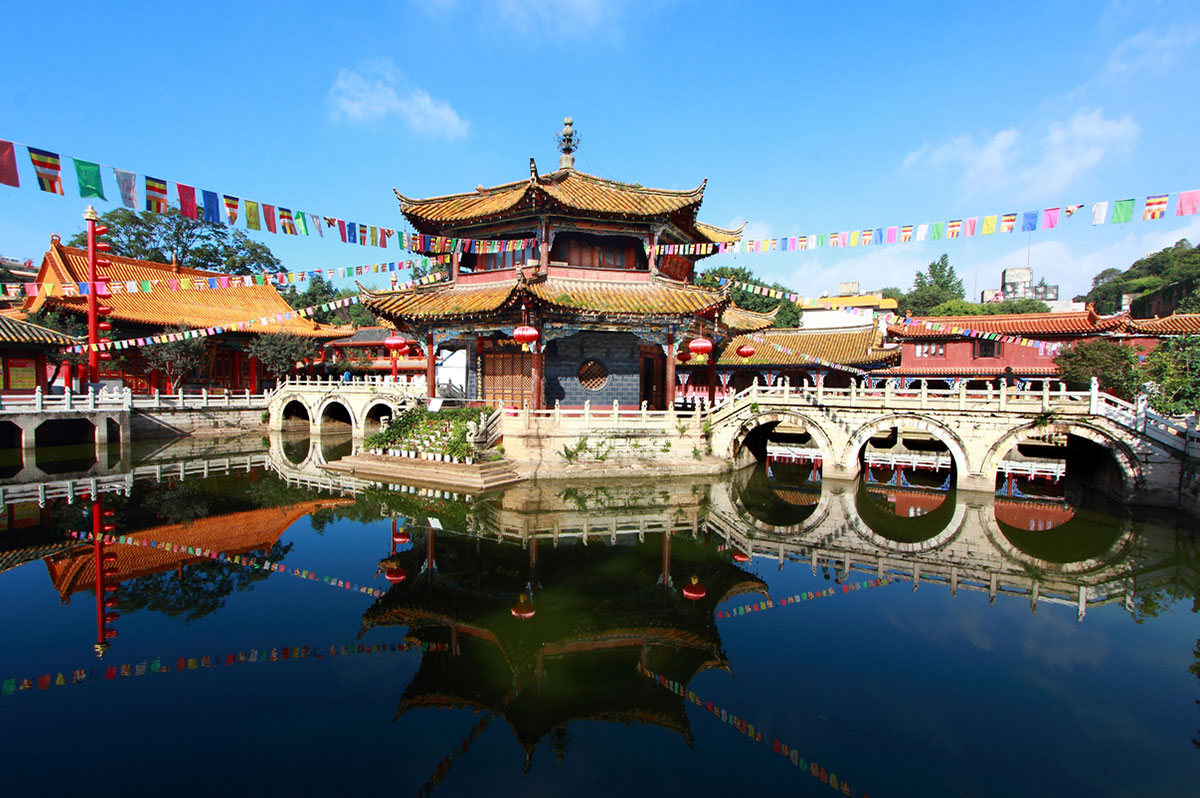 You've decided that Kunming, China is the best place for you to study Mandarin, but now you're thinking "what can I do when I'm not studying?"

It's a very serious question and we're here to answer it for you.

Kunming, China is known for its beautiful, breathtaking, unique landscapes and not to mention has the nickname "city of eternal spring." What city could beat that?

It is is the capital and largest city of Yunnan Province in Southwestern China and is the political, economic and cultural center of Yunnan. Kunming is also home to several universities, Mandarin study schools like Keats School, museums, galleries, etc. There are so many things to see, that's why we're sharing with you 7 places to visit in Kunming, China when you're not studying.
DONGCHUAN RED LAND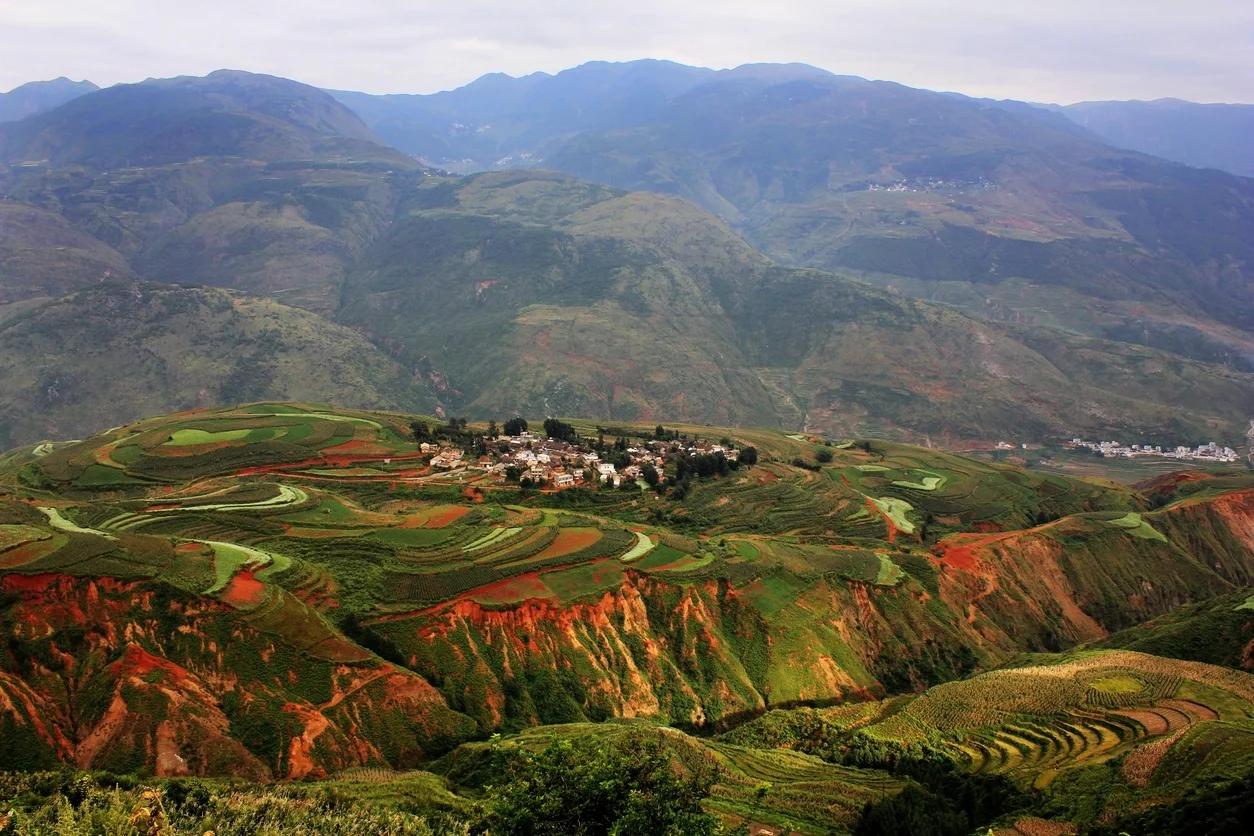 If you're wanting to look out at the landscape and be in awe that such a beautiful view exists, you're going to want to visit Dongchuan Red Land.
The colours of the land combined makes it look like someone magically dropped a palette of paint on the ground to create this natural masterpiece. You can see reds, greens, whites and yellows together in the hills.
The beauty is said to have been created by iron oxide being deposited slowly throughout centuries, gradually forming the colours.
Driving to this attraction will take awhile, approximately a beautiful 3 hour drive by car from Kunming. There are several points of interest on the drive. Be sure to stop at one of the many of resturants to try Dongchuan noodles, Dongchuan potatoes, Dongchuan muttons or yak hotpot.
There are buses that can take you there for a trip, but expect a slightly longer ride.
This attraction is free and we suggest you visit in the late spring or early summer.
THE STONE FOREST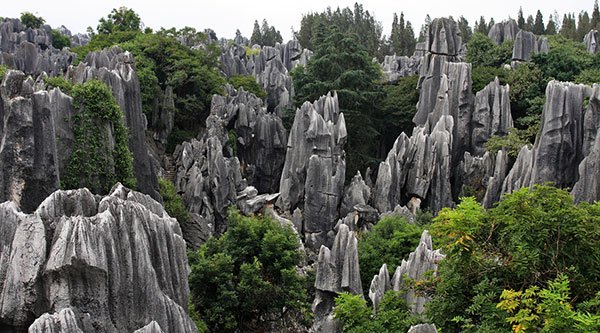 These amazing karst formations are located in Shilin Yi Autonomous County, around 90km east of Kunming. The tall rocks seem to pop up from the ground, with many looking like petrified trees, which explains the name "The Stone Forest".
The Stone Forest became a UNESCO World Heritage Site in 2007 and has become a huge tourist attraction.
In addition to the forest, there are the nearby Qifeng Caves, Lake Yue and the Dadie Waterfall.
To sees these formations that are believed to be over 270 million years old, it will cost you CNY 175.
YUANTONG TEMPLE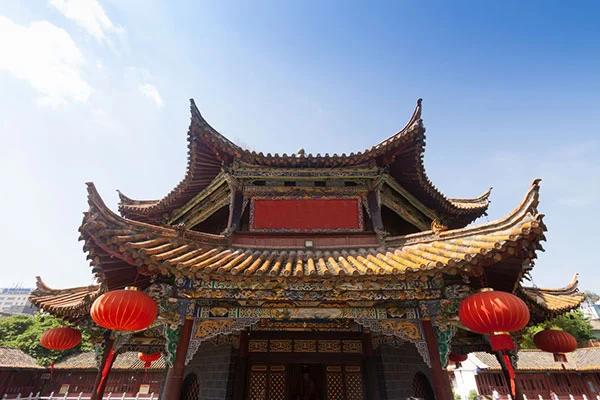 You can't move to Kunming and not visit the Yuantong Temple.
The multi-coloured temple is located centrally in the city and is one of the more popular temples in Kunming. It's located close to Green Lake Park, an added bonus spot you should walk along!
Yuantong Temple is the most famous Buddhist temple in the city. It was first built in the late 8th and early 9th century, the time of the Nanzhao Kingdom in the Tang Dynasty.
The temple is known for its unusual structure which is quite high in the front and lower in the back. Don't forget to look out for the koi fish in the water below the bridge.
This attraction will cost you CNY 8 / 1 Euro / 1 USD to enter.
DIAN LAKE (DIAN CHI)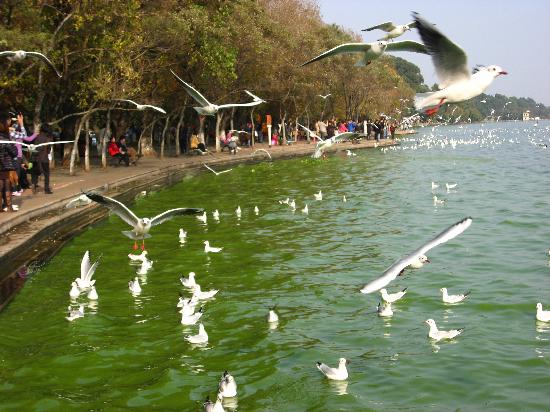 Dian Lake is the perfect spot to go for a walk along the nearby promenade, take a boat on or ride your bike around the lake. Don't forget to bring some goodies for the nearby seagulls. You can't visit Dian Lake without feeding the nearly famous birds that hang out there.
The lake is close to the Yunnan Ethnic Villages, Haigeng Bank and the Xishan Forest Park as well as several temples. It's the 6th largest freshwater lake in China and has an area of 340 square feet.
This attraction will cost you nothing to view and it's open all year-around. Lakes don't go anywhere!
KUNMING DRAGON GATE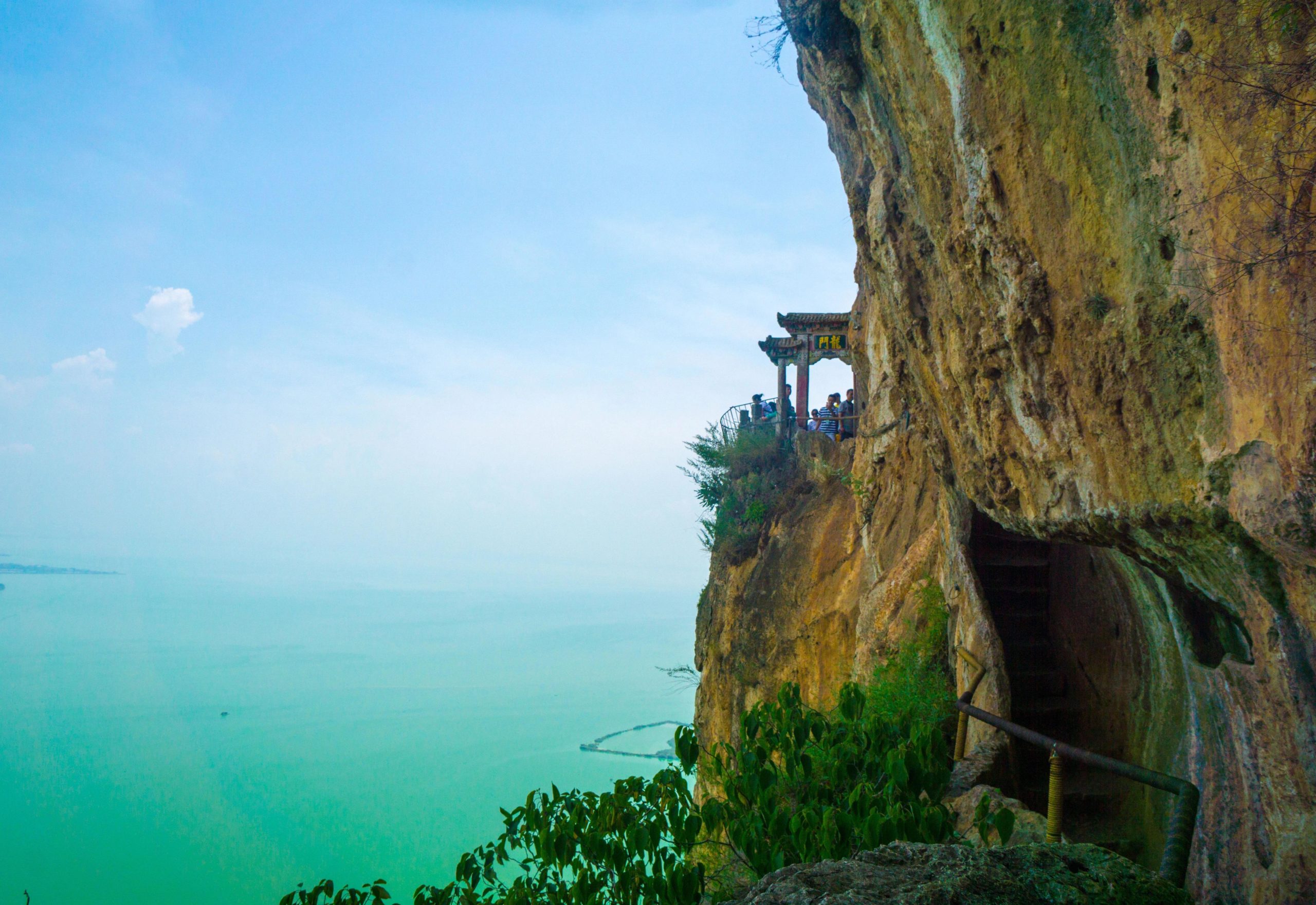 Just to the west of Kunming, practically right next door to Dianchi Lake, the Sleeping Buddha Hill rise above the city. The nickname was created because when you look at the Western Hills from a distance, they look like a giant sleeping Buddha.
There are several scenic spots to visit around this area including the Kunming Dragon Gate. The gate peaks up to 8,202 feet and has breathtaking views over the nearby lake and the city of Kunming.
It will cost you CNY 90 / 13.50 USD / 11 Euro to travel to the Dragon gate but this does include the cable car and shuttle bus rides.
NANPING BUSINESS STREET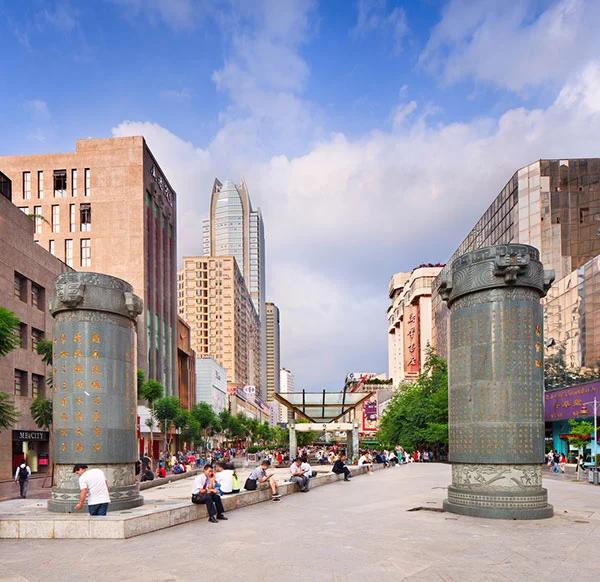 Located in old Kunming, Nanping Business Street is a collection of finance and commerce buildings.
Take a walk through the street which has become an emerging landmark of Kunming and an entertainment centre. You can expect beautiful elaborate local crafts and fashionable stylish clothing.
In addition to shopping, you need to taste the local snacks and food options on Nanping Street.
It will cost you nothing to visit the street and window shop but you will more than likely spend a little cash when you're on Nanping Street.
GUANDU ANCIENT TOWN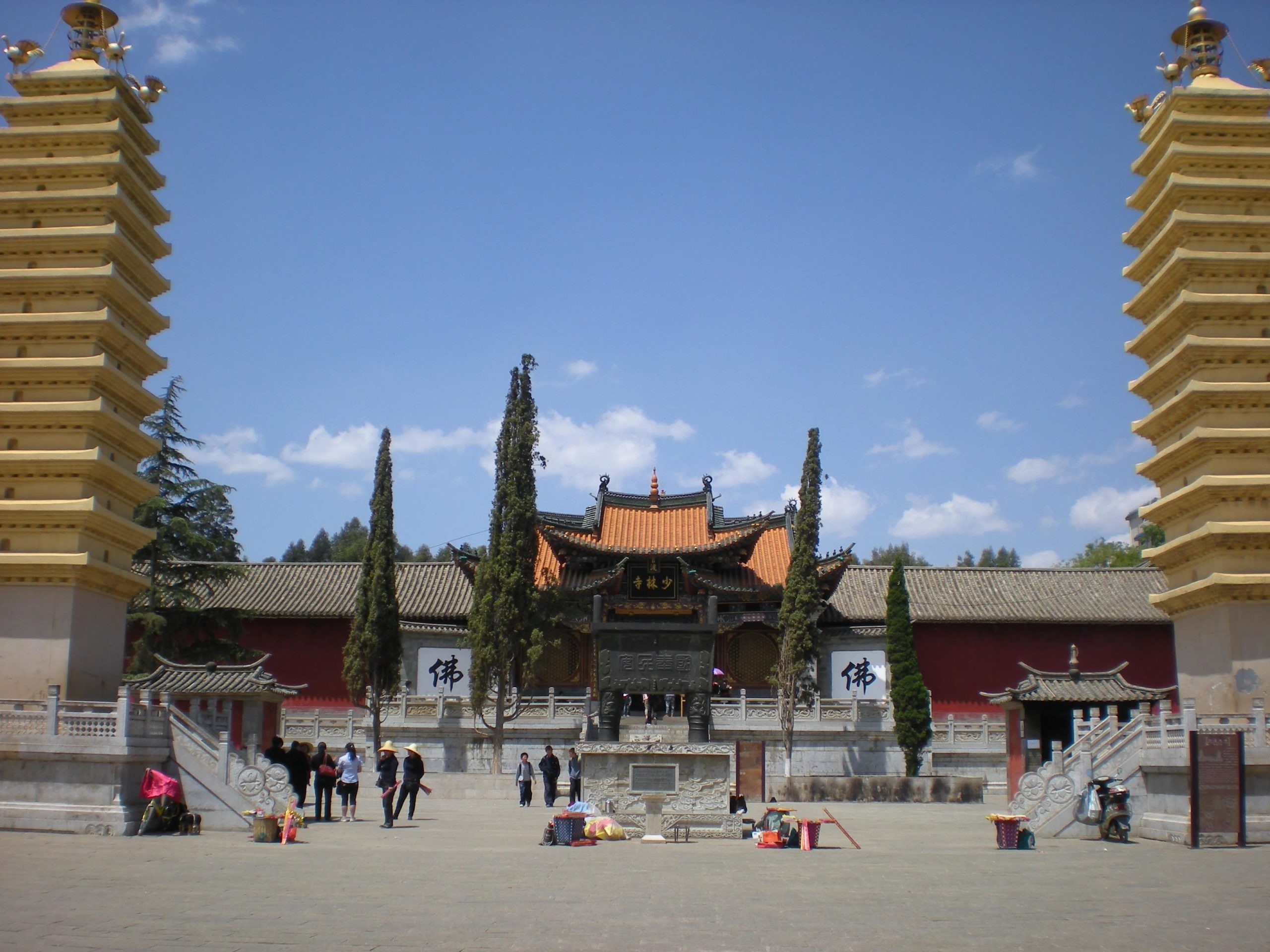 The beautiful ancient town is different from the rest of Kunming. There is beautiful old architecture to gaze at, take pictures of and dream about.
A lot of money has been spent on sprucing up this old town, with parts being converted into park space and pedestrian streets.
Not only is this town a place for tourists to visit, but many locals spend time there hanging out, having tea, playing games and having meals together.
Like the attraction above, it's free to visit the Ancient Town, but you could end up spending a bit of money, so prepare yourself for that.
IT'S TIME TO PLAN YOUR DAY TRIPS
Kunming and the surrounding areas offer so many attractions. Not only are there tourist attractions, but there are also attractions that are free that locals even love exploring, which means it's worth the trip!
So, it's time start planning the trips you're going to take when you're not studying. Not sure where to start? Keats School in Kunming China offers a study program that includes touring around China. Not only that but Keats teachers will help you plan your next day trip and give you advice on what to see, where to eat and what to bring with you.
Contact Keats School today to apply to the Chinese Language Course + Tour In China or to learn more about what Keats Offers.