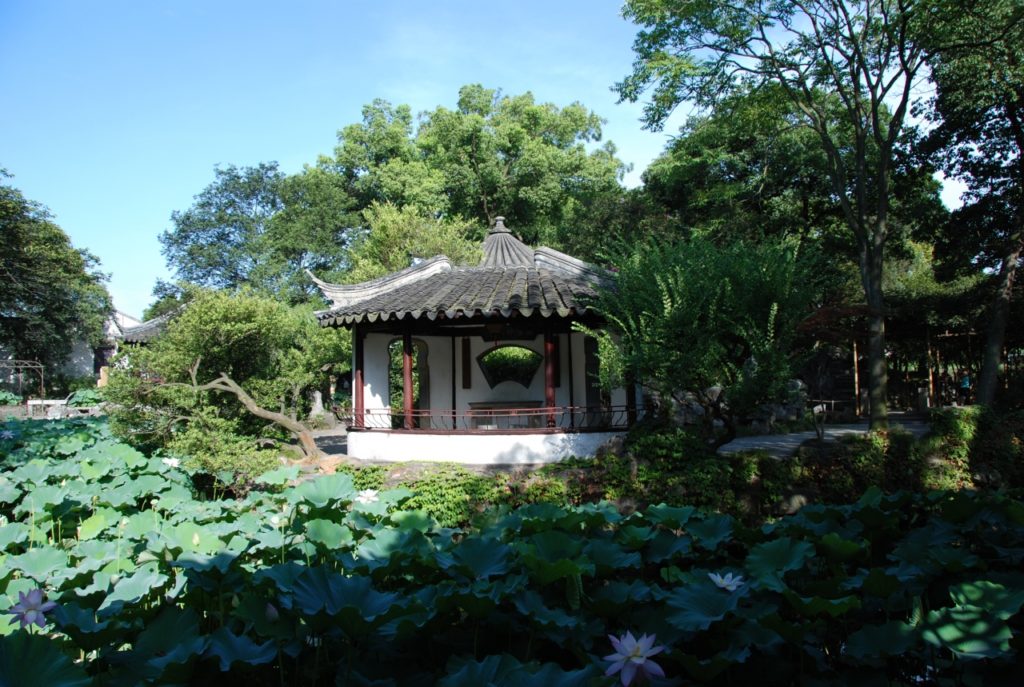 Suzhou, a beautiful city in eastern China. Lots of Mandarin learners take this city as one of the options of their learning destination. In today's post, we're going to find out together that if Suzhou is the right city for you to enjoy your immersive Chinese language study in China.  
A fast developing city that about 30 minutes driving from Shanghai
Suzhou is located in the Jiangsu province and about 30 minutes drive from Shanghai. It is also known as the "Venice of the East" for there are many canals. These canals, together with pagodas, stone bridges and meticulously designed gardens have made Suzhou become one of the most visited touring destinations in China.
Nowadays, Suzhou is ranked on the front 5 in the list of those cities that have the highest per capita income in China.
It also develops a special industrial zone, the Suzhou Industrial Park to promote better cooperation between Chinese and foreign companies. What's more, you will have the chance to taste one of the eight great Chinese cuisines, the Jiangsu cuisine, which is a feature in a sweet taste and a wide variety of seafood.
Suzhou seems an ideal destination for learning the Chinese language based on the above information; however, it is not as simple as how it looks like.
The high cost of living
As we mentioned previously, Suzhou is next to the international metropolitan Shanghai city, which indicates a high cost of living here. Indeed, compared with that tier top city like Shanghai, Beijing and Guangzhou in China, the cost of living in Suzhou seems a bit less. However, it still costs lots compared with other capital cities in other provinces, such as Kunming city, the capital city of Yunnan province. Checking out how much does it costs to study and live in Kunming HOW MUCH DOES IT COST TO LEARN CHINESE IN CHINA 
In general, if you want to enjoy a budget-friendly living and study time in China, Kunming city would be a better choice. The commodity price is quite lower and reasonable in this city, especially the housing part.
If you're enrolled in the intensive one-on-one language program offered by Keats School, you would also save lots from following costs items such as daily meals, gym membership fee and various cultural activities.
Even better, there is STUDY&TOUR program as an available option for a student who wants to enjoy learning and touring at the same time. Keats School has set up a series of cooperation with the local service provider in the touring industry. It makes Keats School's service the most economical one, pay a cheaper price but a much better service experience.
Dialect impact on Mandarin learning
Dialect impact is the most influential part when considering the destination for learning a new language, especially when you're thinking about having an immersive learning experience.
You have to immerse yourself in some proper language environment rather than a less ideal place to cultivate your language sense of a specific dialect rather than the standard Mandarin.
Suzhou is the home of Wu dialect. The local population speaks a dialect that belongs to the Wu linguistic branch, which is even very different from Mandarin and also difficult to understand for Chinese people who are not living in this area.
This condition can make having a proper immersion language learning experience difficult if people around you speak a dialect that is nothing like the language you're studying.
You will see a much less impact on this aspect of Kunming. Here in Kunming, though people still speak a local dialect much often than Mandarin, this dialect is quite similar to the Mandarin. It greatly reduces the impact of dialect. You could enjoy a better language environment here.
Less top-quality educational resources
The educational offering in Suzhou is quite far behind other larger cities. There are only prestigious universities in Suzhou, one in its urban centre and another one in its suburbs.
If you're interested in learning the Chinese language in purely academic, cities like Shanghai, Hangzhou and Nanjing that close to Suzhou are all better choice than Suzhou. These cities have a much broader offering and more prestigious universities with various subjects.
Besides the lack of public educational resources, the list of private schools for studying Mandarin in Suzhou is not very ideal neither.
The language programs offering here is neither ideal in price nor content. Why don't you turn your attention to the best and the biggest Mandarin school in China, the Keats School?
Keats School located in Kunming and found in 2004. It has accumulated over 16 years of teaching experience and also has successfully helped thousands of students turn their Mandarin learning dream into reality. At Keats School, there're multiple language programs available to match up with your demands. No matter what study demand you're asking for, improving your Chinese proficiency, passing the HSK test, additional training out of your class, learning business Chinese to boost your career or finding a wonderful summer program for your child, you can always get what you need here at Keats School.
Your Mandarin learning schedule will be arranged according to your personal needs and all the teaching content will be tailor-made to help you learn faster and better.
In a word, there is a much better choice out of Suzhou city, and here are more details can explain WHY YOU SHOULD LEARN CHINESE IN KUNMING. 
Richer cultural experience in Kunming
Except for above-mentioned benefits of learning with Keats School in Kunming, you can also enjoy loads of other better experiences here. A richer cultural experience is one of the most attractive features of Kunming city.
Yunnan is the home of 26 ethnic minority groups in China, which turned this area into a wonderful land full of colourful culture and diverse folk customs. In this province, you can not only appreciate various attracting landscape but also splendid cultures and cuisines of different ethnic minority groups.
Out of Yunnan province, it's also easy for you to approach the diverse South-eastern Asian culture. Yunnan province borders many countries like Vietnam, Laos, Myanmar and Nepal. Kunming boasts the 5th largest airport in China, so it's a really good base for you to enjoy studying and exploring at the same time.
What are you waiting for after reading this post? It's time to take your action and join the Keats School community. You will find it worth much more than study in Suzhou.