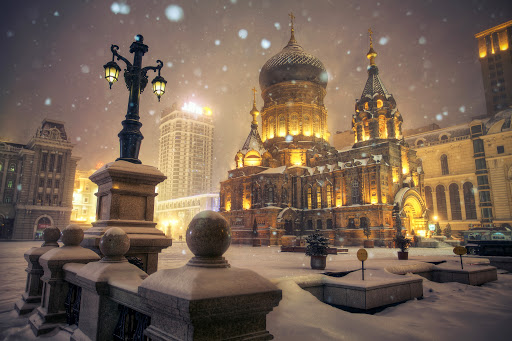 Harbin city (hā ěr bīn 哈尔滨) is an attractive destination for travelling and visiting. As the provincial capital and transportation centre of Heilongjiang province, Harbin is the largest central city in the north-eastern part of China. When travelling in Heilongjiang province, you must go to visit Harbin. However, is it an ideal place for international students to learn Chinese? In my own opinion, I would say that you have a better choice than Harbin. Kunming city would be a better place for you to learn Chinese in China. 
We will have a look together about why you should learn Chinese in Kunming rather than Harbin.
Harbin is a historical city worth for visiting and touring, while Kunming is more suitable for learning.
The Russian-style city appearance and the winter scenery of ice and snow are undoubtedly the two determinative reasons for attracting tourists to visit Harbin. Its profound history has left this city with various kinds of Western architectures, such as Russian, Baroque and Byzantine. Therefore this city is also known as the "Oriental Moscow". In winter, Harbin turns into a beautiful ice city, with unique landscapes-ice sculptures hidden in the streets and lanes. In the night, with colourful light and decorative lanterns, the whole Harbin city is glowing with its beauty. Besides, various snow sports such as skating, skiing, and ice sledge are very popular and worth experiencing in Harbin as well.
But that is the only attractive season of this city and the temperature is like extremely low and freezing, which is very unfriendly to people who prefer some sunshine and mild climate in winter.
Different from Harbin, as one of the most popular migrating destinations in south China, Kunming is rated as one of the most liveable cities in China.
Nowadays, more and more residences of North China are migrating towards the warmer southland of China, where there are more opportunities for working and a better climate for living.
In Kunming, you can enjoy a spring-like climate throughout the whole year. It's also a place with comfortable climate and a slow-pace living. You will have the chance to breathe the cleanest air and appreciate the bluest sky here as well, which is very rare to see in other areas of China.
As for transportation system, Kunming boasts the fifth largest international airport in China, which makes it a convenient transfer spot to accept the international students from different corner of the world and also ideal for travelling lovers to access to the South-eastern Asian country.
You can enjoy both diverse gourmets and unique minority group cultures in Kunming.
In Harbin, the famous local foods include Russian-style western food, North-eastern China-style stew, Harbin sausage, Harbin beer, and various special street snacks. All of these local foods are all special signature food of this city which will make you a real treat.
In Kunming city, you will have the chance to try over 25 kinds of minority group gourmets and also their unique cultures at the same time. For Yunnan province, where Kunming located in, is the home of 25 different minority groups in China. This contributes greatly to Yunnan's diversity in the aspect of local culture and the local food.
Experiencing the authentic Chinese living style and Chinese culture are prominent parts of your Chinese language learning. To really master the Chinese language, it's necessary to understand its culture first.
Besides above, Kunming also shares many other advantages in the aspect of learning the Chinese language.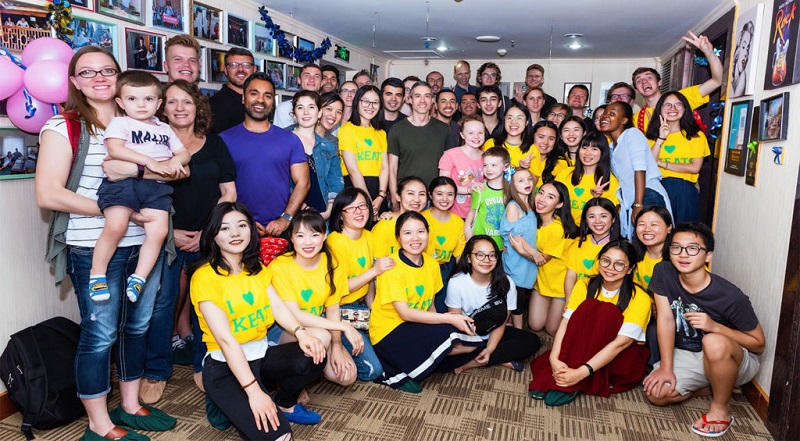 -It has the best and biggest private language school in China: Keats School.
Keats School has a systematic and outstanding Chinese language program. Keats School offers intense one-on-one Chinese course, small group Chinese class, online Chinese lessons, HSK Test Preparation, Chinese Language Course + Volunteer in China, Chinese Language Course + Tour in China, Children Chinese Program, and customized Mandarin course for organizations and companies. You would be satisfied with the flexibility of the duration and course schedule, for it would be all customized to fit your personal arrangement. By studying with Keats School, you will see yourself make rapid and steady progress as time being.
-You can have more chances for practising out of the class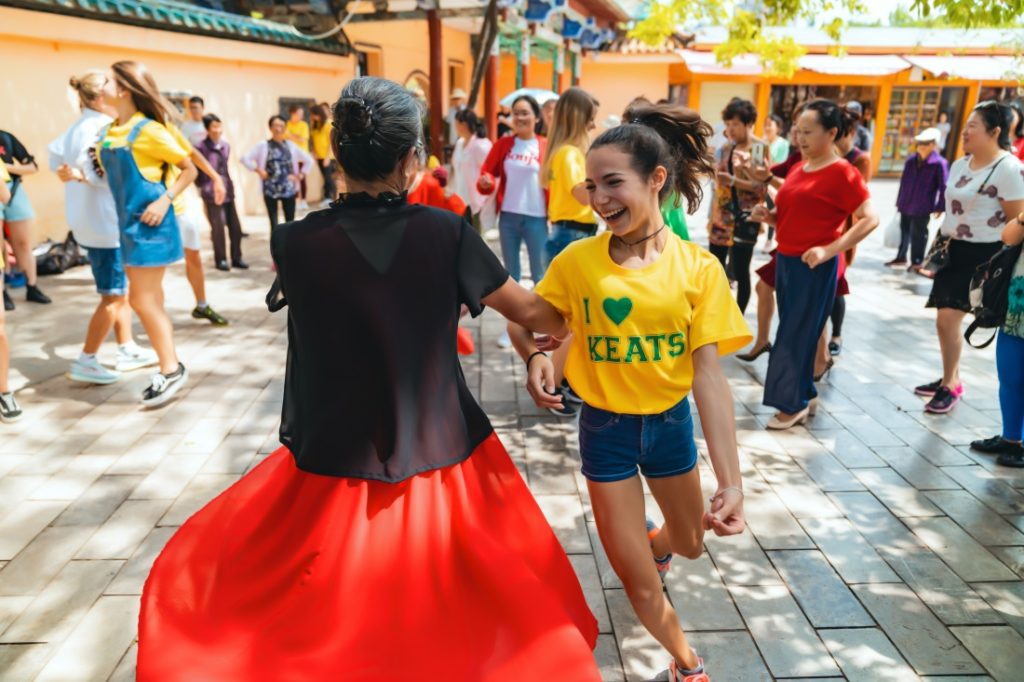 The most prominent reason why you decided to travel to China for language study and get immerse in its culture is that you can practice your oral Chinese at utmost in an environment that full of native Chinese speakers.
Kunming is an ideal destination that can offer a proper chance for daily Chinese communication practising. Due to its less internationalization, local residents speak English not that often and also less affected by dialect accent considering the Kunming dialect is quite close to standard Mandarin. Therefore, you could practice your oral Chinese proficiency properly here.
Furthermore, you could join in the language events and activities held by Keats School after classes too. It's a fabulous chance for you to meet locals and practising oral Chinese with targeted topics. You would have the chance to make new friends and explore more cultural experience too.
-Kunming is a better place for it is budget-friendly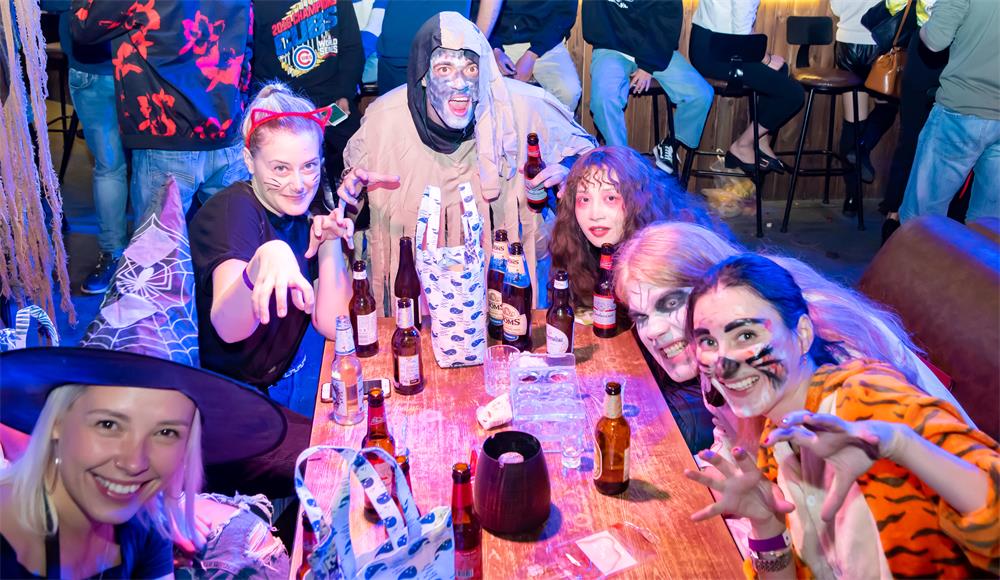 One of the benefits of studying Chinese in Kunming is its relatively lower costs. Tuition fee offered by Keats School including accommodation (with private bathroom), three meals per day, free access to facilities in school such as library and fitness centre, language exchange events and activities held by the school, 24/7 supports and also student discount at Keats cafeteria. Your daily expense is almost covered by your tuition here. There is no need of worrying even if you're out of school. Local living cost in Kunming is relatively low compared with other capital cities of China. You may save a lot of expense and invest it on other aspects of spending it on your tours after finishing your Chinese learning program here.
To know more about the cost of study in Kunming, check out the post HOW MUCH DOES IT COST TO LEARN CHINESE IN CHINA
You may also read the following relevant posts about more interesting living tips in Kunming:
6 PARKS YOU MUST SEE IN KUNMING